Do I need a permit for my dock?*
No permit is needed to install, construct, or reconstruct your dock on property you own if you comply with the following:
A dock is a narrow platform or structure extending toward the water from the shoreline. A dock may provide access to moored watercraft or deeper water for swimming, fishing, and other recreation.
The structure, other than a watercraft lift or watercraft canopy, is not more than 8 feet wide and is not combined with other similar structures so as to create a larger structure.
The dock is no longer than needed to achieve its intended use, including reaching navigable water depth.
The structure is not a hazard to navigation, health, or safety.
The structure will allow the free flow of water beneath it.
The structure is not used or intended as a manna.
The structure is consistent with the guidelines of the local unit of government.
Docks placed on rock-filled cribs are located only on waters where the bed is predominantly bedrock.
Restrictions on docks and
other structures*
You may not place a dock or other structure in public waters if the structure:
obstructs navigation or creates a hazard; . is detrimental to fish or wildlife habitat
or is placed in a posted fish spawning area;
is intended to be used for human
habitation;
includes walls, a roof, or sewage
facilities; or
is located on property you do not own or
have rights to use.
If you have questions concerning the contents of this brochure, contact your DNR Area Hydrologist. See contact information on
reverse side.
*Based on Minnesota Rules, Chapter 6115.

What you should know about docks and
other water access structures
Docks and watercraft
lifts are commonly used
access structures on
Minnesota lakes and
rivers. If you own
waterfront property, a
temporary structure that
provides access to a lake
or river is preferred to a
permanent structure.
Permanent structures are
more likely to sustain ice
damage, and a snow-covered structure over the ice poses a hazard to recreational vehicle users.
The blue box to the left lists installation guidelines for docks and access struc¬tures like boat lifts. These guidelines are intended to minimize impacts on water resources and shoreline habitat. If you follow these guidelines, no permit is needed from the Department of Natural Resources (DNR). Local units of government may have additional dock rules related to public safety and other local issues and should be contacted.
A shoreline owner may request a permit to install a dock wider than 8 feet. The permit applicant must show a specific need and show that the wider dock represents the minimal impact solution to that need. Docks serving single¬family homes or residential planned unit developments generally will not need a dock wider than 8 feet. Public docks and mooring structures that are otherwise not serving as a marina may need to be a wider structure and will be reviewed individually. Docks that have no permit and that exceed the 8-foot-wide limit are subject to enforcement action, including a citation, an order to remove the dock, and fines for both the landowner and the dock installer.
Design and locate your dock and boat lift to avoid interfering with your neigh¬bor's use of the water. Docks and boat lifts should be placed so that mooring and maneuvering of watercraft can normally be confined within the property lines if they were extended into the water.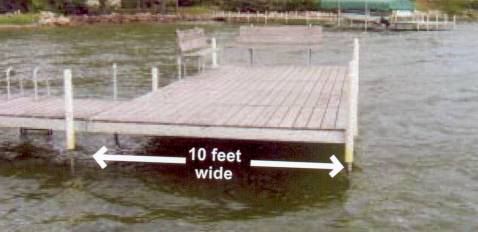 This dock is wider than 8 feet, so it needs a DNR permit. Refer to the blue box at left for other guidelines relating to dock permitting